Overview
Getting Started
Help
Release Notes
Purchase!

VisiLaunch enables you to easily create links to applications, documents, folders, web sites, QuickTime movies, etc. to any region you select in your favorite pictures.

Create entire "Virtual Worlds" through which you can navigate.

Each "layer" in your virtual world can have up to 100 links.

Create special movie theaters using the integrated QuickTime Player. This lets you play movies as if they were a part of your picture(s).

Put multiple applications, documents, folders, web sites, etc. behind a single link area. When you click on this link area, a drop down box (popup menu) will appear with each link item. Choose one to launch or open it OR hold down the "Shift" key on your keyboard and all items in this link area will be launched or opened!

There are dozens of potential applications for VisiLaunch, including:

Personal organization
Presentations
Project bundling
Kiosks
Real Estate
Desktop Standardization

Link all your favorite apps, movies, mp3s, documents, folders, web sites, etc. to any region of any image. Create your own virtual worlds with VisiLaunch!
With just a few clicks you can change this: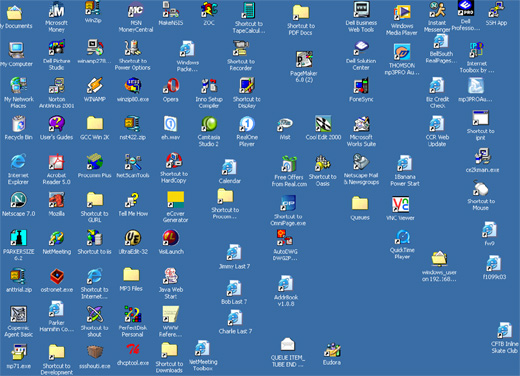 into this: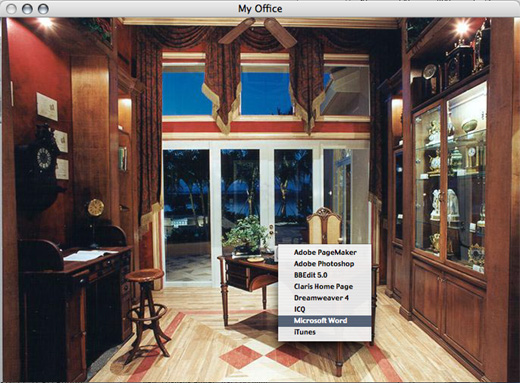 But that is only the start. With VisiLaunch you can easily create entire virtual worlds, moving from room to room such as this Sample world having five "Layers":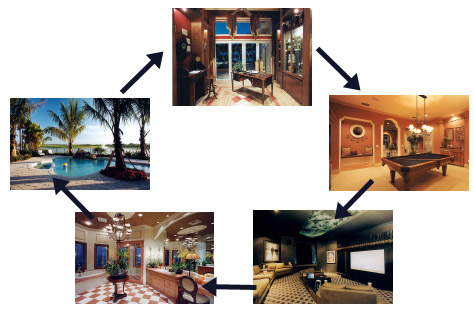 You can even create your own virtual theaters with the integrated QuickTime player, so that your movies (or mp3s) become a natural part of your picture: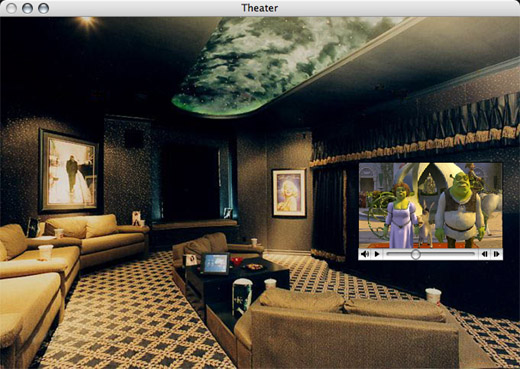 No matter what link type, VisiLaunch makes link creation simple. The key to this is the VisiLaunch Tool: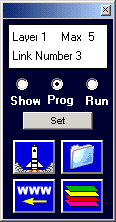 To create a link on a picture, all you need to do is drag out a rectangle on the picture, select the link type by clicking the appropriate button in the VisiLaunch Tool, click the "Set" button, and select the application, document, folder, etc. to be linked. That's it!
Please see our demonstration movies in the "Getting Started" sections for additional details.
Price: $49.95
Windows System Requirements:
Windows 95/98/NT/2000/Me/XP.
A popluar Internet browser (Internet Explorer, Mozilla, Opera). Neither Netscape nor AOL are supported at this time.
QuickTime 6.0 or later.
Mac OS X System Requirements:
Mac OS X 10.1 or later.
A popular internet browser (Safari, Netscape Navigator/Communicator, Internet Explorer, iCab or Opera). No AOL browser support at this time.
QuickTime 6.0 or later.