Administration: (about 2 minutes per support person)
Login to your A1 Support server as the Administrator. You do this by using your browser and going to the "a1s_login.htm" page. This will typically be a URL such as follows:
http://www.myserver.com/a1s/a1s_login.htm
Once you get the login page, enter the Administrator Login and Password which you had previously entered into the "a1s_config.pl" file, and click "Submit". You should then get the Admistration page.
Enter each support person's Name, Login and Password into the proper edit fields. If you wish to limit support personnel access by IP address (or range), then enter the IP address(es) as required.
For A1 Support Pro you can also enter a support person's email address, and set his/her ability to view the entire support Queue, assign support cases to other support personnel, or become the default assigned support person for all new incoming support cases.
After entering the above information for each support person, click the "Add Support Person" button. You should see the support personnel list update with the new data.
You can also change any entry as well as delete it.
---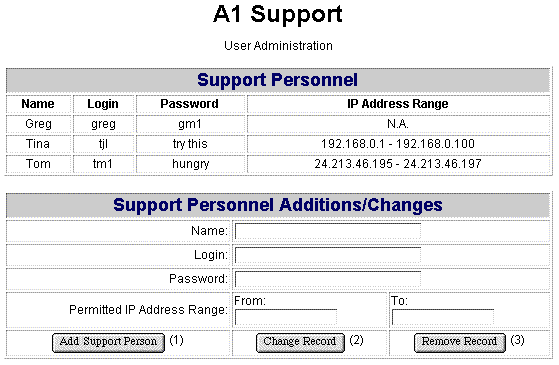 Example User Administration Screen for A1 Support
---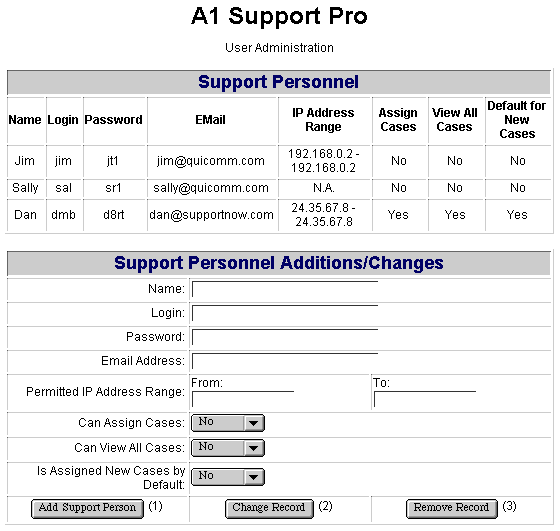 Example User Administration Screen for A1 Support Pro